I just managed to wake up in time to watch and capture the last lunar eclipse of 2011.
This is the time lapse I shot of it. Not too great as I only spent about 15min thinking about doing this then getting everything together and climbing onto our roof to shoot this at 5am. I only have a 18-55mm kit zoom lens for my DSLR so the moon is pretty small. That's what I get for not planning ahead. Still this is better than the last lunar eclipse I made a movie of a few years back and my failed attempt earlier this year when I was standing out in the rain waiting for a break in the clouds that never really came.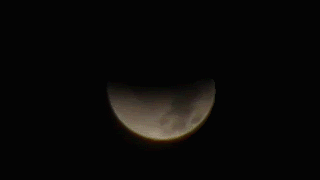 Here is an animated gif of the same movie looping back and forth to make it easier to see the eclipsed moon. It did not do this while I watched because the moon set while still eclipsed.
Here are four stills from the time lapse. I wish I had not been sick all week so it wouldn't have been so hard to wake up earlier. I woke up at about 4:45 just in time to look out the bedroom window and see the moon starting to go into shadow. I think it was 5am or later before I got myself bundled up with all my gear onto the roof to start watching and taking pictures.
Here is the view I had. It was pretty great except for the one big street light almost directly below the moon. I should have lowered the camera more to block that but then you wouldn't be able to see the ocean. It was pretty great to watch the eclipsed moon setting over the Pacific Ocean! Be sure to click on these pictures to see them nice and big. Right clicking and view in another window/tab is even better now that they have the odd new image viewing thing going on.
Here i s a little closer view. The lights on the horizon are crab boats. It's crabbing season and the one time of the year the pacific isn't totally dark. The crab boats some times make it look like a small city out there. Good thing the moon even when eclipsed is nice and bright.

Be sure to open this one in a separate tab/window. This is a panoramic from just before the moon disappeared into the low clouds on the horizon. Can you spot the moon? I love the views at sunset and sunrise (and moon set as well in this case)from our roof.